Review: Golgo 13 Episode 15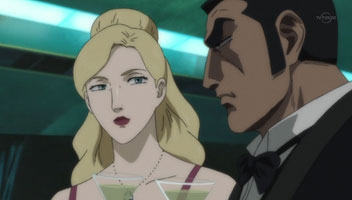 Eva Kruger is a brilliant and beautiful assassin with a problem. Her recent job involved the head of one of the New York mafia families. Now, the other families want her dead and have hired Golgo 13. But Eva and Golgo shared one remarkable night at sea. When the two meet again, Eva clearly has feelings for Duke, but is there any warmth beneath his cold exterior?
Remarkable… This makes two solid episodes in a row; we finally get a glimpse of humanity in Duke in a bittersweet tale about a past romance with a fellow pro. Until now, we have only seen him as caring about getting the job done; there are no personal attachments, no feelings, just a cold, methodical killing machine. Yet, Duke extends a measure of mercy to Eva; he does not kill her outright. She is given the opportunity to set her affairs in order and have one last stroll through her hometown. Only then does does Duke's shot ring out.
One could say that this was merely a professional courtesy, a sign of respect to a colleague that never tried to harm him. However, one minor detail leads me to believe that Duke felt the closest thing to love he can. When they made love, he was on top, his back exposed and vulnerable. Overall, this was a surprisingly quiet and nostalgic episode, a refreshing change from the series norm. Hopefully, there will be a few more glimpses into Duke's past and psyche. Another rare, "must see" episode.