Review: Golgo 13 Episode 05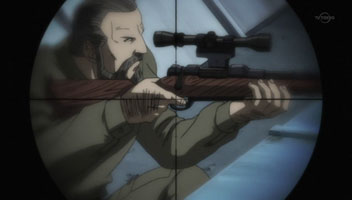 Golgo 13's mission this time out is a precision mission, one that must take place at an exact time and place. The president of a theater company has caught wind that a young, upstart VP in his company has hired an assassin to take him out. Golgo must take out the VP at the exact time the VP is expecting the president to die. Golgo's competition is a top Russian sharpshooter, one that could have easily won Olympic gold.
Not much to say about this episode; once again, Golgo not only outwits his opponent but demonstrates split second timing to pull off an impossible shot. The highlight of this episode is the reminiscing of the better times by the president. He remembers when the VP was a young man eager to prove his worth; the president sought to mold him into his successor, but the young man became too greedy. This is summed up in a poignant moment when the president asks if the VP remembers the significance of the tie he is wearing.
The series is still an entertaining way to spend a half hour, but one has to wonder how many uniques takes on the theme the writers can pull off.