Review: Golgo 13 Episode 06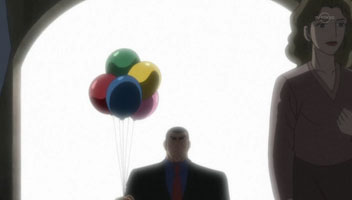 Duke holds a bunch of balloons… That alone was worth the price of admission for this episode. It is the most incongruous image I've seen in quite some time. Golgo must assassinate the financial backer behind a presidential candidate; the challenge this time? Security is ultra tight, and there is a high probability that Duke won't be able to leave the scene after the job. Once again, it is a test of wits between Golgo 13 and the cops.
Golgo is particularly ingenious this time around with his preparations, but there are some outlandish plot devices in this episode. First, you know that the world's greatest assassin is walking into the target zone holding balloons. Do you frisk him and check the balloons, or at least confiscate the balloons? No, of course you don't; you pat him down and let him go on his way. I'll also have to look into how metal detectors work; apparently, keeping a bullet in your mouth prevents it from setting off the detector.
Who cares though? This is pure kick up your feet, down some popcorn escapism. And you just can't beat the sight of a grim faced killer walking around with balloons.